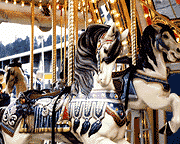 When it comes to "Amusement", the Adirondack Park offers some the finest, for kids of all ages. From the Great Escape in Warren County, to Santa's Workshop in Essex, there seems to be something for every child in every corner of the park. While we are appreciating the tranquility of one of the countries most beautiful parks, our kids can be appreciating the thrill of the water slides at Water Safari, in Old Forge.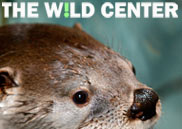 Natural History Museum of the Adirondacks
THE WILD CENTER
518-359-7800
866-765-7800 Tupper Lake
The Wall Street Journal called it 'glorious' and the New York Times said it was 'stunning' . This new kind of museum, spread over 31 acres, is an Adirondack 'must see' according to USA Today. Designed by the firm that created Washington DC's Air and Space Museum, the Center features live exhibits, including splashing river otters, a wide screen theater and tons of hands on exhibits.



ENCHANTED FOREST-WATER SAFARI
3183 State Rt. 28
Old Forge NY 13420
Phone: 315-369-6145
New York's Largest Water Theme Park!
Over 50 Rides & Attractions including 31 Heated Water Rides • Fun Food • Exciting Games • Storybook Characters • Family Circus Show & More • Great Rates for Group Outings • Specializing in Corporate Outings • Youth Groups • Birthday Parties & School Groups • Open June 16 - Sept. 1 2008- Purchase Tickets Online & Save - For More Information visit www.Water Safari .com or call 315-369-6145




Cheap ATVs.com

Kids' ATVs - Wholesale to the Public!

Super low prices! ATV's, dirt bikes, Honda, Yamaha, Polaris, Suzuki!

Free Shipping!

click here




OLYMPIC SITE TOUR
Lake Placid, NY (and surrounding areas)


Tour the Olympic venues. Whiteface Mountain, site of the alpine skiing events. The Olympic Jumping Complex, get a chance to see athletes in training, on the 90 meter jump. Mt. Van Hoevenberg, home to the cross country, biathlon, bobsled and luge competitions. The Winter Olympic Museum, to view memorabilia from both the 1932 and 1980 Olympics. The Olympic Ice Arena, where you can catch either a Hockey game, or ice skating competition.

Coca Cola "Go for the Gold" Game

Ages 4 - 14, can participate in a game where, clues can be picked up along the way of your tour. Details and game cards available with the purchase of an Olympic Site Tour package.

Tour packages can be purchased at the Olympic facilities and most campgrounds, hotels, and motels.

ADIRONDACK SCENIC RAILROAD
Thendara, NY (Herkimer County)


Take an exciting ride through history, aboard The Grand Adirondack Line. Travel through the most scenic area in the Adirondacks. Taking the northern route, takes 1 hour and 15 min. the southern takes 1 hour. This is a fun way for the entire family to view the beautiful Adirondack Park. For prices and schedule, call: (315) 369-6290.

GREAT ESCAPE THEME PARK
Lake George, NY

Featuring fun for the whole family. Ride the Steamin Demon Corkscrew Coaster, see the attractions and don't forget the daily shows of the Super Circus, High Divers, Street Action and the Magic Show, just to name a few. Take a raging river raft ride or the Desperado Plunge. New Yorks largest Theme Park Great for the whole family! For prices and hours, call: (518) 792-6568

FORT TICONDEROGA
Ticonderoga, NY

Located on Lake Champlain in the beautiful 6 million acre Adirondack Park , Fort Ticonderoga is a private not-for-profit historic site and museum that ensures that present and future generations learn from the struggles, sacrifices, and victories that shaped the nations of North America and changed world history. Accredited by the American Association of Museums, Fort Ticonderoga offers programs, historic interpretation and tours, garden tours, demonstrations and exhibits Fort Ticonderoga is located at 100 Fort Ti Road Ticonderoga , New York .



AQUA ADVENTURE WATER SLIDES
Glens Falls, NY

A fun filled day is in store for you when you visit the Skateland Family Fun Center. Water slides, kiddie play areas, picnic areas, etc...Don't miss it. For prices and hours, call: (518) 792-8989

SANTA'S WORKSHOP - NORTH POLE, NY
Wilmington, NY

Oldest Theme Park in the United States offering fun for the whole family. Get a chance to see Santa at the North Pole, his storybook friends, live Reindeer and the magic of Christmas. For prices and hours, call: (518) 946-2211.

MAGIC FOREST- FAMILY FUN PARK
Lake George, NY

One admission fee, covers all rides and shows at this magical fun park. There are magic shows, baby animals to see, and tropical bird shows, as well as all the rides any kid could want. All in beautiful Lake George, NY. For prices and details, call: (518) 668-2448.

We invite you to search these school and summer camp links for valuable resource information.

Teen Summer Camps
Search Teen summer camps that provide hands-on, innovative film and acting instruction, music, computer , sports camps and much more. Camp instructor opportunities for teens to help develop leadership qualities.



Back To Adirondack Kids

Calendar of Events | Vacation Rentals | Real Estate | Lodging & Accomodations
Dining | Summer Sports | Winter Sports | Arts & Crafts | Attractions
Shopping | Adirondack Kids | Adirondack Lifestyles | Education
Business Profiles | Community Links | Business Directory | Classifieds
Adirondack History | Bulletin Board | Chat Room | Guestbook Comments | Return Home

BACK TO THE TOP

43 Broadway
Saranac Lake, New York 12983
Phone: 518-891-3745 Fax: 518-891-3768
E-Mail: Adirondacks.com

This website is owned and operated by
adirondacks.com internet publishing group.
For advertising and editorial content,
please contact Rob Grant;
adirondacks.com reserves the right to reject,
modify or cancel any advertising at its sole discretion.
© Adirondacks.com - all rights reserved